"It is the people behind the business that make a company great." -Karen Person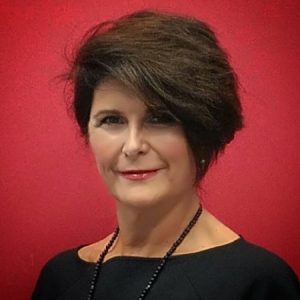 We caught up with our Vice President of Sales, Karen Person, to discuss finding success in a career, how she became successful in her own, and her plans for continued success at Staffing Technologies.
How do you personally define success?
I think there are a lot of different factors when defining success. For me, one of the most important "success factors" is that I have to love what I do and enjoy the people that I am doing it with on a daily basis. While the financial aspect is important, in my opinion its only one part of the "success scorecard".
What I love about this business, specifically at Staffing Technologies, is that we solve problems for our clients and change people's lives. Most  managers that we work with share similar challenges – regardless of what and whom they are managing.  That challenge is ensuring that they have the right team in place. If you have the right team together, you can do amazing things.
If we can help our clients find the right people, whether it is through contract, contract to hire or direct hire initiatives, we have helped take a big load off of them.  At Staffing Technologies we do more than  provide great technical talent for our clients, we focus on finding team members that fit into their company and organizational culture.  Finding a technical person who can do the work is one thing but finding the person that will fit in with the rest of the team from a cultural perspectiveand can embrace the client's mission is really critical in our business.  That cannot be done by slinging resumes or by doing key word searches. We deliver quality to our clients and candidates via our vetting process….sitting down and actually investing time and energy on both sides of the equation.
At Staffing Technologies we are all very entrepreneurial in nature but we are also focused on delivering quality and value to our clients and candidates.  Working with us is a positive experience…for our clients and candidates.
Another reason why I love this business and the work that I do at Staffing Technologies is that we get to change people's lives by taking them to the next level of their career. One of the best things about being in this business is getting that phone call two years after you placed a person in a position and they call to say thank you and "If it had not been for you and Staffing Technologies I would not be where I am today". Those phone calls can put a smile on your face and warm your heart.  How often do you get to do that and get paid for it!?
The people that are very successful at Staffing Technologies have a great work ethic and they truly care about our company. Mistakes are made and that is OK….we all make them.  But we look at mistakes as things that we can learn from and strive to improve from there. At Staffing Technologies we are out-of-the-box thinkers, we are entrepreneurial minded, focused and driven. However, we don't forget to enjoy our journeys….our teams have some talented and funny folks. Laughter is good for the soul!
Jim McNabb, our Founder and CEO has built a company that encourages all of us to take responsibility for our own success; regardless of the role …. sales, recruiting or back office functions. Each team member is responsible for their achievements and there is a team around them that is going to help them become successful.
What is the best career advice you have ever received?
I started my sales career with Xerox. Prior to joining the company, the Vice President of the Region gave me some career advice. He said, "Karen, let me tell you something. You are going to make a lot of money being in sales and the best advice I can give you is to never live beyond your means." What he meant by that was don't set your quality of life on your future commissions. Instead, set your quality of life on your base salary and then your commissions are your extras. That way, you never get yourself out of whack. I don't know if I did that every single time, but that was one of the best bits of advice I could ever get. Don't stretch yourself thin because you are going to have challenging months.
The other piece of great advice that he shared with me (that I thought was great advice and goes back to our earlier discussion) was:  Love what you do and believe in the company that you are doing it with. Any and all jobs can be hard / challenging.  But if you are in a great environment with great people and strong leaders, the challenges are never overwhelming.
What is your goal for continued success of Staffing Technologies? 
The goal that Jim and I share for Staffing Technologies is to continue to grow our business in all of our markets (Atlanta, Nashville, Dallas & Seattle). We want to have happy clients and candidates.  If something goes wrong, we address it.  This can only happen if we have strong teams in place that share our vision.
We will continue to develop our people, continue to build a motivating environment, provide coaching and mentoring that will help them be highly successful. We are a company of "doers" here.  All of us are constantly selling, meeting with clients and prospects, searching for great candidates, networking and doing whatever it takes. Regardless of the position / job,  there is no job that is less important or more important than any other. If we are all willing to do whatever it takes, then we will all succeed.
I remain enthusiastic about this industry and more specifically about this company. Not every company in this industry has the same level of integrity or passion that we carry here at Staffing Technologies.  I am proud to be part of this amazing organization!